Are you looking for some extra cash to jumpstart your savings?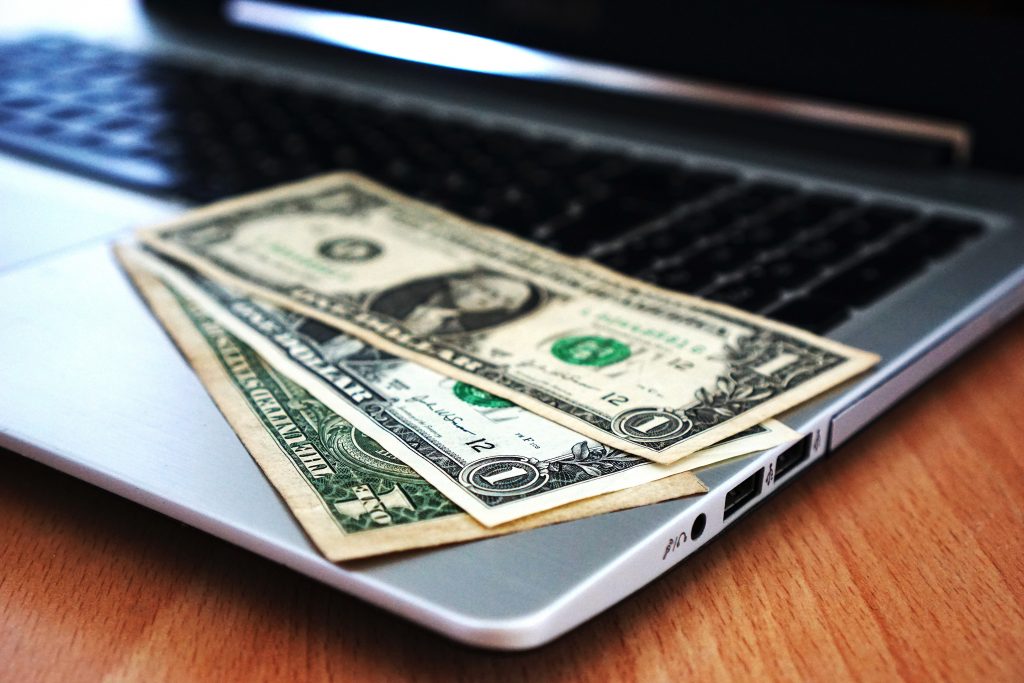 Desperate to stop living paycheck to paycheck? Want to make 2019 the year you finally get debt-free? 
Look no further than your computer screen! With nothing but internet access and a modest investment of your time, you can give your budget that extra padding it needs and get a head start on saving for a larger goal. 
Read on for six easy ways to earn money online. 
1) Take Surveys
Taking surveys in your spare time can be a great way to earn some extra dough fast.  
Here are some great survey companies to get you started:
Survey Junkie

 – Redeem points for payouts via gift cards and/or PayPal.

American Consumer Opinion

 – Easy sign up and well-managed.

Vindale Research

 – Pays up to $75 a survey.

Ipsos

 – Simple and easy to use.



Choose one (or more) that works best for you and start earning money today! 
2.) Share your Amazon purchase history 
Download the ShopTracker app from Harris Poll and help the company track the products Amazon customers purchase most. All you need to do is share the details of your recent Amazon purchase.
The company will ask for info about the purchase, such as the order date, product title, category, ISBN number, release date, condition, seller, list price per unit, quantity and several other details.
Get paid up to $36 per year for doing this small amount of work.
3.) Become a transcriptionist 
Are you a quick typist or a fast talker? Then you may want to consider working as a transcriptionist. Sign up for a program like Scribie and get paid to transcribe documents and movies at $5-$20 per audio hour.
The work is extremely flexible and can be done anytime on your schedule. Most files are only six minutes long or less, so the work is interesting and doesn't get too tedious. You can choose to type the documents or movies, or to dictate them into a talk-to-text program. Plus, there's an option of getting promoted and earning more once you become more adept at transcribing.
And as a bonus, you'll learn new things every day!
4.) Monetize your blog or website with Google AdSense
Google ads are all over the internet; now it's time to make them work for you! If you have a website or a blog (and if you don't, you can build one in short order) work on monetizing with Google AdSense. You'll only earn pennies when you start out, but if you work hard at increasing the traffic to your site or blog, it can really help you pull in the big bucks.
Google AdSense is insanely easy to set up. Sign up for a free Google AdSense account and you'll receive a unique setup code to copy to your site or blog. Once you've done that, Google does the rest, tracking your page views, traffic flow and earnings.
Worried about maintenance fees and upkeep work? There are none! Google does it all. That's why incorporating Google AdSense in your site or blog is such a no-brainer. It's just a few minutes of your time and then you'll start earning extra money for doing absolutely nothing.
Of course, the more traffic you draw, the more you'll make off Google AdSense. The potential to earn an extra few hundred, or even thousands of dollars, via Google will push you to work at drawing more traffic to your content. While it will take work to get there, just imagine pulling in an extra $4,000 a month!
5.) Become an online consultant
Are you an expert in your field? Do your coworkers constantly seek you out for guidance and advice? Why not market your expertise and earn some extra money at the same time?
Online consulting is the perfect side hustle for natural teachers and counselors. You'll be working with what you're good at, creating your own hours and schedule and setting up your own pay scale.
You can advertise your services on a public forum like Craigslist, or set up a free profile on Clarity.fm. People will then be able to look you up on their own. Once word spreads and your name is out there, you can raise your rates and earn more in less time.
Let your talents pay off! 
6.) Sell your stuff on eBay 
Yes, we know, eBay is the dinosaur of online commerce, but even dinosaurs have their days. The next time you want to throw out an unused piece of junk, a defunct device or an ancient gadget, skip the trash can and sell it on eBay instead. The auction platform guarantees you'll get the best price for your junk and the site is fully secure. Why not make money off your garbage? 
The internet has changed the world forever. Use it to earn extra cash and turn your financial world around!