Have a check to deposit and no time to run to the branch or ATM? Use Mobile Deposit to make that deposit right from your smartphone or tablet.
Sign
On the back of the check, your check endorsement MUST contain the following:
1. Your Signature
2. 'For TVACCU Mobile Deposit Only'
3. Your TVACCU Account Number
4. The Date
Snap
Take photos of the front and back of the endorsed check.
Download our app so you can also bank, pay bills AND make deposits from your smartphone. Get it on the Apple App Store or Google Play Store today!


FAQs
What is Mobile Deposit?
Mobile Deposit is a free, secure, service within your TVACCU mobile banking app, which allows you to take images of checks and deposit them directly into your TVACCU Checking, Savings, or Club Accounts.
How should I endorse the check?
The endorsement must contain:
YOUR SIGNATURE
FOR TVACCU MOBILE DEPOSIT ONLY
YOUR TVACCU ACCOUNT NUMBER
THE DATE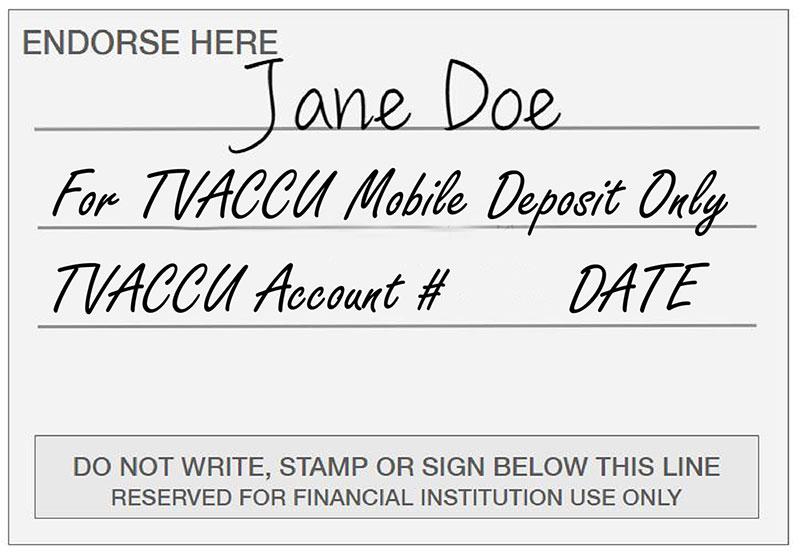 Into which of my TVACCU accounts can I make a deposit?
You can use this service to deposit into your TVACCU Checking, Savings or Club Accounts
Are there limits on the amount of funds or number of checks that I may present through Mobile Deposit?
You can deposit as many checks as you'd like up to the deposit limits of:
$1,500 per item
$3,000 total items per day
You can only deposit one check at a time
Tips for taking the photo of your check:
Flatten folded or crumpled checks before taking your photos.
Keep the check within the on-screen corners when capturing your photo.
Capture the photos in a well-lit area.
Place the check on a solid dark background before taking photo.
Keep the phone flat and steady above the check when taking your photo.
Make sure the entire check image is visible and in focus before submitting your mobile deposit.
When will the deposit be credited to my account?
Checks deposited via Mobile Deposits and confirmed as received before 4:00 PM CST deadline on a business day will be credited to your account within 24 hours of receipt. Deposits confirmed received after 4:00 PM CST deadline, and deposits confirmed received on holidays or days that are not business days will be credited to your account within 24 hours of the following business day. Funds deposited using the Service will generally be made available on the second business day after the day of deposit. Please note that being credited to the account and being included in your available balance may not be the same thing.
What types of checks are NOT accepted for Mobile Deposit?
Ineligible items include, but are not limited to:
Checks payable to any person or entity other than the person or entity that owns the account that the check is being deposited into;
Checks containing an alteration on the front of the check or item, or which you know or suspect, or should know or suspect, are fraudulent or otherwise not authorized by the owner of the account on which the check is drawn;
Checks payable jointly, unless deposited into an account in the name of all payees;
Checks previously converted to a substitute check, as defined in Reg. CC;
Checks drawn on a financial institution located outside the United States;
Checks that are remotely created checks, as defined in Reg. CC;
Checks not payable in United States currency;
Checks that are stale-dated (for example, ninety (90) days or more after the issue date for checks containing instructions that state "Void 90 days after issue date");
Checks or items prohibited by TVACCU's current procedures relating to the Services or which are otherwise not acceptable under the terms of your Credit Union account;
Checks payable on sight or payable through Drafts, as defined in Reg. CC;
Checks with any endorsement on the back other than that specified in this agreement;
Checks that have previously been submitted through the Service or through a remote deposit capture service offered at any other financial institution;
Third party checks (for example, a check that is payable to someone else, endorsed and signed over to you);
Checks that are incomplete (for example, any item that does not contain the signature of the maker, endorsement signature (s), or other required information);
Photocopies of checks;
Any item that is incomplete;
Checks that require authorization;
Checks with inconsistent numerical and written dollar amounts;
Checks that are not dated;
Checks that are post-dated (for example, a check showing a future date);
Checks that are more than six (6) months old;
Checks transmitted from an OFAC-restricted country;
Checks drawn or otherwise issued by you or any other party on any of your accounts with us;
Consumer loan, credit card or mortgage payments;
Savings bonds;
Any item on which a stop payment order has been issued or to which there are "non-sufficient funds";
Checks from a closed account;
Money orders and traveler's checks;
Starter or counter checks;
IRA and Share Certificate deposits;
American Express Gift Cheques;
Checks that exceed the deposit limit (s) that we establish for the Service;
Checks that have been previously returned unpaid for any reason; and
Checks purporting to be a lottery or prize-winning.
What should I do with the check once I submit it for Mobile Deposit?
Upon receipt of a confirmation from TVACCU that the image of an item has been received, prominently mark the check as "Void" in order to ensure that it is not represented for payment. You will need to retain the check or a sufficient copy of the front and back in the event of a deposit dispute for at least 30 days.