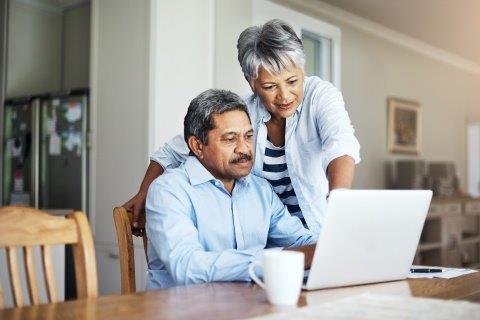 Investments
TVA Community Credit Union offers Investment services to help you save for whatever the future may hold. We can help you better manage your money—while earning interest. Our competitive rates and friendly, experienced professionals make TVACCU a great place to achieve your investment goals.
IRAs
TVA Community Credit Union offers a variety of IRAs to help you save.
Traditional IRA
A TVACCU Individual Retirement Account offers you tax savings today and a secure retirement in the future. Earnings grow tax-deferred until withdrawn and contributions may be tax-deductible.
Roth IRA
The Roth IRA offers unique and exciting savings opportunities because it appeals to many different age and income groups. Although it is not a one-size-fits-all solution, the Roth IRA gives members an easy and safe way to plan for the future.
Regular contributions can be withdrawn tax- and penalty-free at any time. After the account is open five tax years, earnings can be withdrawn tax- and penaltyfree for any of these reasons: you are age 59, disability, death, or a first-time home purchase (lifetime limit for exemption on first-time home purchase is $10,000).
Coverdell Education Savings Account (CESA)
With Coverdell Educations Savings Accounts (CESAs), you can contribute up to $2,000 per year, per child. Anyone can contribute: parents, grandparents, other relatives or friends.
Withdrawals are tax- and penalty-free for qualified elementary, high school, and college education expenses. This includes school tuition, books, supplies – even a new computer.
There are two ways you can deposit funds into an IRA account:
IRA Share Type Account
You don't have to wait to start your IRA savings. You can deposit any amount you like through payroll deduction, direct deposit, across the counter or by check through the mail. When you accumulate the $500 minimum, you may transfer these funs into a certificate. The dividend rates offered to members are the same as regular shares.
IRA Certificate
You may purchase an IRA certificate with a minimum of $500. The rate paid on IRA certificates is the same rate as regular certificates. Maturities are from 180 days (6 months) to 1825 days (5 years). There is a penalty for early withdrawal of an IRA certificate.
Dividends are paid quarterly on IRA Shares and IRA Certificates.
Certificate of Deposit (CD)
TVA Community Credit Union offers certificates of deposit with maturities ranging from 6 months to 5 years. The minimum amount required to purchase a certificate of deposit is $500. The Board of Directors determines interest rates offered to members on CDs. the offering rates are subject to change weekly and there is a penalty for early withdrawal. 
Click here to view current rates and terms.
*Rates quoted are best available and are subject to change without notice. Early withdrawal penalties apply. Contact a Member Service Representative for more information.