It can be so overwhelming when you walk onto a college campus for the first time. Have a financial plan and strategy in place so you don't get overwhelmed with the cost of college life. Here are a few tips to help you get through the first year.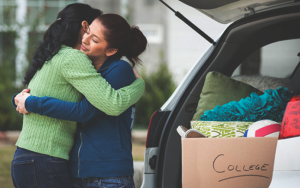 1. Create a Budget – Create a simple spreadsheet and make a column for your monthly expenses that subtracts from your monthly budgeted funds. Try to make sure everything balances out and there is some money left over for emergencies every month. This will help you build up an emergency fund. Try not to impulse buy and check your budget to make sure you can afford the purchase.
2. Open a checking and savings account at your local credit union so you will have access to online billing and set up your account to automatically pay bills so you will never incur any late charges. Make sure you put a certain amount of money in your savings account every month so you will have an emergency fund available. It is a good rule to have 3 months worth of expenses built up in a savings account.
3. Take Advantage of health care laws that allow you to stay on your parents health insurance plan until the age of 26.
4. Purchase used books instead of new. There is not a need to purchase a new textbook, if you can find a used one for a much reduced price. If you are forced to buy new, remember that campus prices are almost always higher than online retailers like Amazon for instance.
5. Get familiar with credit. Now is a good time to start understanding the benefits and responsibilities of credit. Go to your local credit union and get a credit card to use sparingly and to have in case of an emergency. Make sure you pay off the balance every month so you do not pay any interest.
6. Line up all of your financial aid options before the school year begins.
7. Get a part time job to offset the cost of food and books and to help gain experience for your resume.
8. Protect Yourself. Be careful about leaving money lying around. Make it a rule to not lend money to classmates and friends. Never give out personal information or passwords to friends or classmates. Be mindful of identity theft, especially if you shop or bank online. Do not use public computers when logging into bank accounts or shopping online. Consider forwarding financial mail to your parents' home.