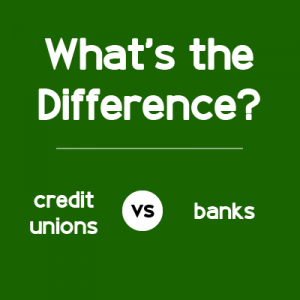 Many people don't really know the difference between a bank and a credit union, here are the 10 good reasons to choose a credit union instead of a bank.
1. Credit Unions Have Owners
While banks have clients, credit unions have part owners or members. When you open an account, your account is actually a share and provides you voting rights. Instead of a board of directors, decisions are made by vote from shareholders. Each member has a voice in how operations are run, no matter how small her share may be.
2. Accounts Have Fewer and Lower Fees
Some banks have 30 to 50 unique fees for checking accounts! Not TVACCU, always FREE for checking. Unlike big banks, credit unions aim to minimize account fees. For example, credit unions are well known for not charging monthly maintenance fees, which are about $12 to $14 at big name banks.
3. Clerks Talk With You
This is a major advantage of working with a credit union. Credit unions have a much smaller client base, and they work very hard to keep them happy.
4. Lower Financing Costs and Higher Payouts
Data from the National Credit Union Administration (NCUA) consistently shows that credit unions outperform banks. For example, in March 2017:
Credit unions had a national average rate of 4.75% for home equity loans, while banks had a 5.33% average rate
A $2,500 money market investment would have paid an average 0.16% at credit unions and an average 0.12% at banks
A $10,000 5-year CD yielded a national average 1.32% at credit unions and 1.14% at banks
5. Access to Financing for Low-Income Individuals
Credit unions do not only offer cheaper financing options, but also provide low-income or financially distressed individuals a chance to qualify for financing.
6. Friendly Credit Card Terms
Credit unions are well-known for providing some of the most attractive credit cards. Some of the features include:
No annual fees.
No introductory rates.
Annual percentage rates start at 7.75%. (The national average for credit union issued credit cards is 11.56%, according to the NCUA.)
7. Car Loans
When it comes to providing car loans, credit unions have the local advantage over large banks.
As of March 2017, a new car 48-month loan stood at a national average of 2.69% at credit unions, while TVACCU's rate is 1.95%! Awesome!
Of 4.94% at banks for used cars 48-month loans, the average rate was 2.87% for credit unions was 5.48% for banks. TVACCU beats that at 2.25%!!
8. Christmas Savings Accounts
Several people end up with a financial hangover from the Black Friday and Christmas "deals" because they rack up their store and credit cards. Shopping for gifts on plastic is a dangerous habit. While almost no banks run "Christmas Clubs" any more, nearly 72% of credit unions do. TVACCU's is going strong. Christmas Clubs are special savings accounts that encourage saving for the holidays. The main objective of these accounts is to stash this money away from yourself and make the funds grow until the first days of the holiday season. By saving throughout the year with a Christmas Club, you have a higher chance of actually saving and decreasing your credit card use.