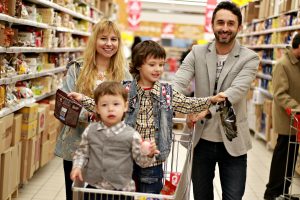 We all know the old adage: don't shop hungry. Nowadays, we  know better than to shop hangry, too, but grocery stores are evolving new marketing methods, too. Even if you don't clip coupons, there are some great ways to prevent overspending at grocery stores.
Make a list.
Meal planning is your friend. If you know what you're going to need ahead of time, it's easier to avoid what you don't. It also helps on clearance deals; buying bread that's cheap because it will go stale tomorrow may be a good deal for garlic bread tonight, but less so for sandwiches on the weekend.
Take pantry pictures.
You probably have a lot of essentials in your cupboard, like salt, flour, or oil, but sometimes a photo of your shelves saved on your phone comes in handy. Do you have almond extract from last time you made cookies, or only vanilla? Do you need turmeric or more cans of soup? Having a quick reference of what you already have can help you cut back on overspending.
Set a limit.
Keep a running total of everything you add to your cart on your phone's calculator. If you set yourself a goal and track how much everything is, it's much easier to know if you really can afford those cookies instead of being surprised by the total at the cash register. Think of it as a game, and get children in on it too; it's a good way to teach responsible shopping young!
Allow an indulgence.
There's nothing more frustrating than following rules exactly. The stricter they are, the harder it can be; see: diets, or teenagers. Even if you have your grocery budget planned out to the cent, there needs to be room for you as well. Set aside a dollar or two for something for you, whether it's a soda, a candy bar, the nicer brand of something, or a seasonal decoration, you'll feel better and be better about sticking to your budget. Remember, if your budget isn't working for you, replan it until it does!
Know your stores.
Store brands can save you a lot of money, but certain things are cheaper in certain places. Walmart brand soda, for example, is half the price of Publix's store brand soda, but Publix's deli tends to run cheaper than Walmart's. Going to multiple stores every week is a lot, though, so consider alternating what stores you go to and stocking up where things are cheaper, especially on the less perishable items. Find out the best prices for meats, cleaning supplies, and bread in the area, and you'll find yourself being more aware of prices when tossing things in the cart.
Shop the sales.
And there's always coupons. A lot of stores offer digital coupons these days, and there are a number of apps like Ibotta that give money back on grocery receipts. When essentials are on sale, stock up! Things like toilet paper or cat litter don't expire, and if you have room in your budget to grab extra now, it'll help you next shopping trip.
Whether you go full coupon-clipper or just try to guess the amount you've got in the cart before the cash register, don't just shrug off the total as 'groceries'. Being aware of what you're getting (and what you don't end up using) will save you a lot of money in the long run.