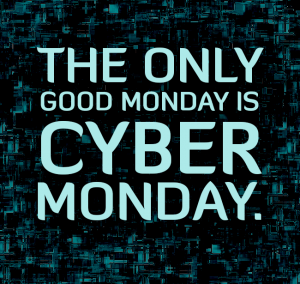 This year's Cyber Monday shopping frenzy is projected to surpass last year's record sales of $3 billion – and would-be fraudsters are ready to cash in on it!
With thousands of unsafe and malicious websites posing as vendors, consumers hitting the web for Cyber Monday deals are at a high risk for identity theft and hacking.  With the growing sophistication of hackers, you have to be cautious when searching for deals.  Here are some tips to protect yourself while shopping online, so you can take advantage of deals – without being taken advantage of by hackers.
Create unique usernames and passwords – Passwords are the front line of defense for protecting your sensitive data. Security experts recommend using complex passwords that include a series of letters, numbers and characters.  However, for the majority of internet users who have dozens of accounts, it can be quite challenging to remember every password.  Using a password manager site can be helpful.  There are dozens of password managers; both free and inexpensive. Some of the better-known ones include Web Confidential, LastPass, and KeePass. Some run on PCs, others on smartphones, while some are browser plug-ins. There is also the old school route of writing them down and storing them in a safe place.
Monitor your accounts – This time of year, when you're making an unusually high number of purchases, be extra vigilant in making sure that all account activity is legitimate.
Beware of links – Thousands of malicious mobile apps and misleading landing pages put users at risk of being hacked.  When shopping online, make sure you are shopping on a store's actual website before inputting any personal information or a credit card number.  Bad web design is a major red flag for scam web pages.  Users should make sure the URL is correct and begins with "HTTPS", or has a lock symbol next to the web address, which means it is encrypted.  Double check promotional emails that advertise deals, making sure the sender's email routes to the website of the company it is claiming to be (something like info@walmart.com rather than info@walmart.co or info@wallmartcustomerservice.com, for example).
Don't shop on public Wi-Fi – When making Cyber Monday purchases, be sure to shop on secure Wi-Fi at home, not a coffee shop, airport, or other public network. If you must shop while on the go, use a mobile device with a data plan or a personal hot spot created from your phone. Stand-alone mobile hot spots can also be purchased from phone providers like Verizon. Users shopping by laptop on public Wi-Fi can also implement a Virtual Private Network (VPN) like Private internet Access or Freedome to obscure and protect their web traffic and better ensure security.
Sign up for TVACCU's FREE ID Protection – Receive instant alerts if your ID has been compromised or any suspicious account activity has occurred by registering for our free ID Protection.  You can also check your credit score and receive instant credit alerts.  Our IDProtect mobile app makes it easy! All TVACCU Checking Account holders can register for this free ID Protection service.  Find out more!