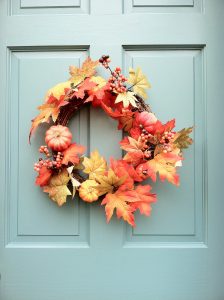 Whether you don't care much for decorating or update your home decor every season, it shouldn't put a crimp in your budget. Check out these ways to create a seasonal or holiday atmosphere without breaking the bank!
1) Shop clearance
This involves some planning ahead, but the best way to score cute decorations is to buy them on clearance the year before. When the season is over, prices can plunge as far as 75%-90% off. Stock up at the end of the season for next year, and as a bonus, you won't have to spend a dime then. Just make sure you remember where you store them!
2) DIY Decorations
Don't pay a premium for something you can make at home. There's plenty of cute DIY crafts on Youtube, Pinterest, TV, and in magazines. From handprint turkeys to jack-o-lanterns, there's something charming about making your own. As an added bonus, grad your family and friends and turn it into a bonding experience to create memories as well as decorations!
3) Multi-use colors
When you're looking for blankets, throw pillows, linens, hangings, or other decorations, think about things that can be re-used. White throw pillows can be used for any season with a different accent throw, and beige tablecloths can change based on your centerpiece. The more versatile it is, the better! Do you have any decorations from previous years or holidays that you can reuse? Dig them out and see!
4) Nature is free
Some of the most recognizable elements of fall (or any other season) come from nature. Sure, buying fake leaves is easier, but gathering and drying leaves and flowers is easy and free. A basket of pine cones makes for a great decorative element, and you can easily glue real leaves onto a wreath for a front door. Painted rocks can add a splash of fun to coffee tables or consoles, and dried flowers are perfect for wall prints or easy crafts like coasters.
5) Ask!
Consider asking around! Check in thrift stores and with family members for things that are old, no longer used, or slightly broken. Sometimes a new coat of paint, or covering something in glitter, is all you need to make an effective (and cute!) ornament. Reuse old toys or clothes as bases to get crafty with, and if you don't like how it turns out, you're not out money.
How do you decorate for fall? Got any tips for saving money on décor year round?