Your Dream…. Our Loan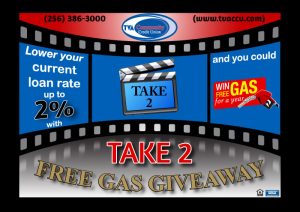 That is TVACCU's motto on lending. Whatever it is that you want, TVACCU can help you get it with our loans. Loans are provided to people for critical circumstances such as medical bills or for something more fun like an RV to travel the country in.
TVACCU has loans for all stages of life:
The ideal time to bring your loan to TVACCU is now before June 15 (That's tomorrow!). With Take 2, our FREE gas give away, you bring your loan in to TVACCU and we can reduce your loan rate by 2% AND you can be entered into a drawing for FREE gas for year!