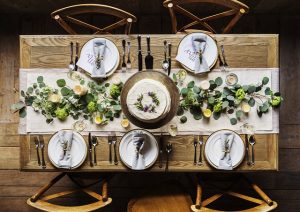 Thanksgiving is a perfect time of year to stop and consider where you are and what you have. It's a time of thankfulness, togetherness, and turkey! It's easy to get caught up in the chaos of travel, cooking, shopping and cleaning, but don't lose track of your budget! Here's five things to budget for this holiday season, besides the turkey!
1. Travel (Or a guest room)
Whether you're going to them or they're coming to you, there's always an expense. If you're flying or driving, make sure you start shopping and budgeting for it in advance. Tickets, gas, parking, snacks–it can really add up!
If you've got people coming in, make sure you've stocked up for it! Whether you're kitting out a whole guest bedroom with new sheets or towels, or just stocking up on toilet paper and post-meal coffee, make sure your home is ready to party. Make a list and budget out for it, and you might have enough to splurge on the fancy hand soaps after all!
2. Place Settings
There's more to a perfect Thanksgiving spread than an impressive turkey! Whether you use paper plates and plastic cutlery or the nice china, it's the incidental costs that can sneak up on you. Make sure you've got room in your November budget for napkin rings, place card holders, or red Solo cups!
If you're traveling for it, consider bringing a host/hostess gift such as wine, flowers, or a pack of paper napkins. Ask your host if there's anything you can bring so you can get exactly the right thing and not waste money on duplicates.
3. Food Storage
Who doesn't love leftovers? Thanksgiving is all about eating turkey that day, and for the next few as well! Make sure you've got plenty of tupperware, plastic bags, or other food storage. Consider investing in a vaccuum sealer if you've got too much to save.
And if your family has that one person who never ever brings the food containers back, well, that's why you budgeted for it!
4. Distractions
So the meal is over, everyone's stuffed and lazy, and clean up has been put on hold until some indefinite "later." What next?
Whether your traditions lean more to playing cards and napping or going out to see a movie or pick up a Christmas tree, make sure it's in your plans. Don't get caught in the cold without enough to entertain your guests or family. If you've budgeted for it, you can wow them with the latest or coolest new thing, whatever that is to you.
5. Christmas
Black Friday and Cyber Monday are a great time to do some (or all!) of your Christmas shopping. Make sure you've got room in your budget. It'll mean spending more this month, but lower your overall December costs. Make a list, shop the sales, and if your budget is well-balanced, get yourself something, too!