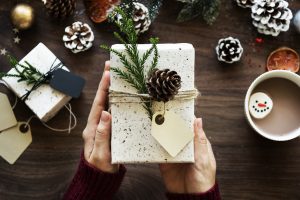 Fall is upon us and the temperature is dropping. Autumn means more than pumpkin spice and longer nights, though; it's also the start of the holiday season.
It seems like Christmas starts earlier and earlier every year, and that even thinking about it before Halloween is scandalous, but a little bit of planning now can save you money, time, effort, and stress in the long run.
1) Plan For Yourself First
It's tempting to jump straight to gift shopping, but remember to plan for yourself, as well. Before the stress really ratchets up, make sure you book travel, set aside time for relaxation, and lay the groundwork in advance so the holidays won't seem so overwhelming. It's easier to avoid retail therapy if you're not stressed out.
2) Ask people what they want and make a list
It's far enough in advance that if you bring up the subject of presents, most people will have forgotten by the time Christmas actually rolls around, but it's not so far in advance that their answer will be outdated. Ask people what they'd like, what they're getting for others, and see if your friends or family would like to go in on a present together, or perhaps skip gifts in favor of a trip or other bonding experience. If you start making a list now, you can hit the Black Friday sales and pick up gifts at a great price. Plus, no last minute freak-outs!
3) Set aside $10+ a week
Let's face it: Christmas has gotten expensive. Ideally you've saved for it and budgeted it into your monthly expenses, but the holidays have a nasty habit of sneaking up on us. Start setting aside a little now–$10 a week from now until Christmas is nearly $100.
4) Remember the incidentals
Presents may be the most obvious expense of the holiday season, but it isn't the only one. There's a lot of little things that add up to time, money, and stress: decorations, wrapping paper, food, travel, heat, and so on. If you're traveling or hosting, make sure you have what you need now so you're not trying to pack, clean, and shop all at the last minute.
5) DIY
It's easy to intend to make people presents instead of buying them; Pinterest and Youtube are full of ideas for cute, useful homemade gifts and decorations. If you're knitting, crafting, sewing, or otherwise planning to make your friends and family gifts by hand, or your own decorations, start planning it out now so you don't run out of time.
It may seem early to start thinking of the holidays, but a little bit of planning goes a long way. How do you prepare? Any tips to share on making the holidays easier?