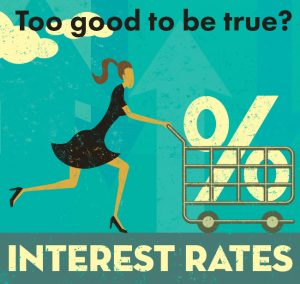 The phrase, "If it's too good to be true, it probably is too good to be true" is something that you definitely should keep in mind as you search for a car loan.
Before we get into whether 0% interest is too good to be true, it's important to understand what 0% financing actually means. When you get a car loan, as everyone knows, you're borrowing money to pay for a car. The financial institution doesn't give you that money for free. Instead, you have to pay interest, or a fee that you give the financial institution for lending you the money. Many times, the 0% is a 'teaser rate' meant to get you in the door and may not apply to you or may not be the best deal for you.
The problem with 0% financing is that not every potential car buyer qualifies for this super-low financing. The too-good-to-be-true rate applies to people with very high credit scores, excellent credit records and little or no debt. That means that only about 5% of the population qualifies for the 0% rate. And, if you do qualify you will most likely have larger payments over a shorter period of time, which may be difficult to fit into your monthly financial plan. Unless you happen to fall into this category, you may get stuck paying a much higher rate.
You may be surprised to learn that even if you do qualify for 0% financing, it could cost you more in the long run. If the dealer offers you the choice of 0% or a cash rebate, taking the rebate and financing through TVACCU could save you money – even if the rate is a little higher. Let's do the math:

| | | |
| --- | --- | --- |
| | Dealer Financing | TVACCU Auto Loan |
| Vehicle Purchase Price | $20,000 | $20,000 |
| Cash Rebate | $0 | $3,000 |
| Amount financed | $20,000 | $17,000 |
| Interest Rate | 0% APR | 1.95% |
| Term of Loan | 48 months | 48 months |
| Monthly Payment | $416.67 | $368.45 |
| Total Saving/Life of Loan | | $2,122.08 |